Discover the features of INSPECTO software
EQUIPMENT
INSPECTO requires no special equipment: a smartphone or tablet on one side and a computer on the other. If your inspections or audits require the use of special tools, endoscopes, external cameras, goggles, drones, etc., we can connect them to the INSPECTO software.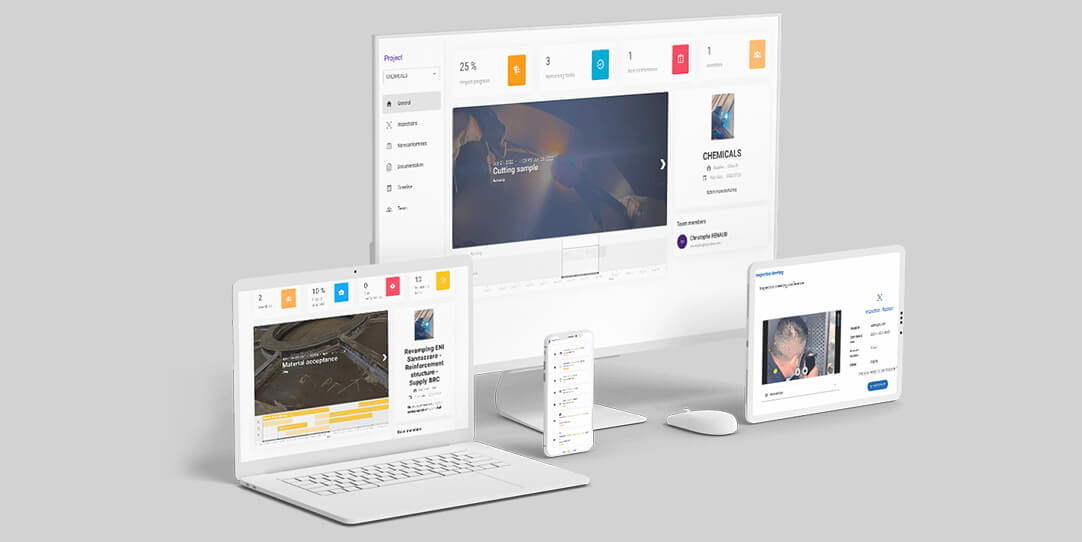 Intuitive dashboard
The 2-level dashboard provides a global view of the activities, and also allows to go into the details of the situation of each project. It allows alerts and detailed analysis to be reported.
This interface offers a complete set of functionalities for the follow-up of your inspections; from the creation of the project, to the analysis of the results. This interface offers a complete set of functionalities for the follow-up of your inspections; from the creation of the project, to the analysis of the results.
Increase the quality of inspections and control
Specific equipment can be integrated. INSPECTO allows the connection of external equipment to provide specific inspection and imaging capabilities in impassable areas, such as a drone, GoPro camera or endoscope.
More than video and audio inspections: integrate EXPERTISE
With INSPECTO, it is possible to capture photos, videos and audios to attach to your quality inspection, control and audit projects.
The tool also offers the possibility of inviting an expert or person from outside the company during the inspection, thanks to a data-protected linking system. By issuing an invitation at any time during the inspection, you get immediate feedback, validation or advice to finalise the inspection in the best conditions.
The intelligence of the tool in line with regulatory standards
With its adaptable and scalable modules, the INSPECTO tool is the right choice for consistent and continuous adherence to different standards and regulatory requirements: ISO 9001, ISO 14001, ISO 45001, EN ISO 13485, EN ISO 14971, ISO 15378, EN 15986, ISO 28620, ISO 17025, ISO 15189, MASE, FDA 21 CFR 11, QUALIBAIL, ILO-OSH 2001, EN 9100, ISO 22000, ISO 26000, etc.
Collaborative and controlled drafting of documents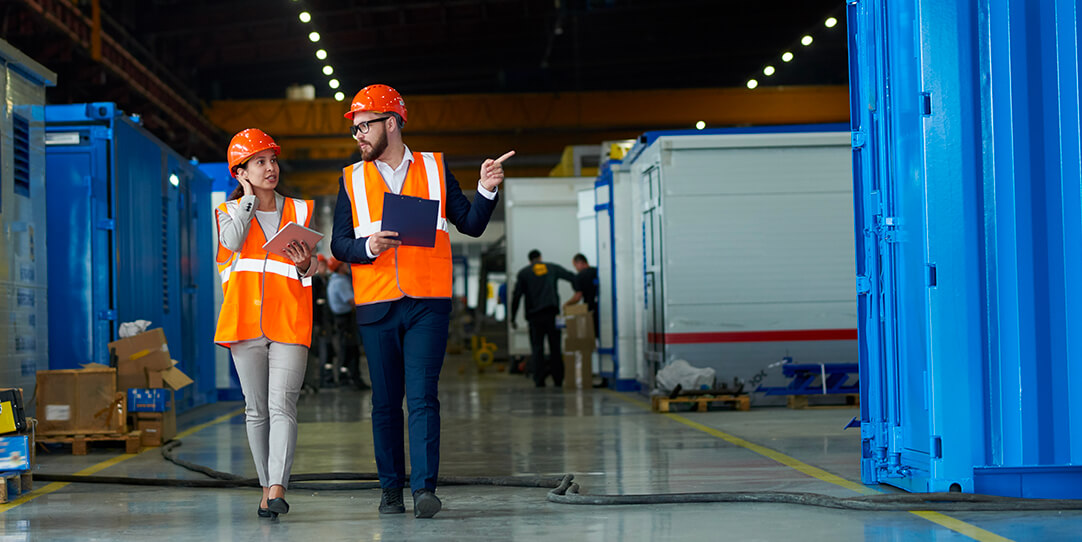 Digitisation of inspection items, compliance checks and audits to increase speed and efficiency
INSPECTO facilitates the monitoring and control of processes, as well as the identification and correction of non-conformities by scanning all inspection-related materials. All media, regardless of format, in the quality control chain are digitally recorded.
By digitising your projects, you can track them from anywhere in the world and monitor their progress wherever you are. This cutting-edge technology gives you a seamless experience when working on your job sites, wherever they are.
Centralization of data for greater ease and speed
The user interface allows access to the cloud to read, validate and/or sign, and securely store documents. This makes data collection faster and easier for inspectors and customers, wherever they are.
Version management with full change history
INSPECTO is a valuable tool for companies carrying out inspections and compliance checks. It is designed to provide full traceability and history of all changes made to documents.
With this tool, all previous versions of an inspection document can be easily viewed and analysed, making it easier to ensure that all inspections are compliant or to quickly identify and correct problems, thus providing the highest level of accuracy and reliability.
This inspection tool also allows documents to be shared in real time between multiple users, making it easier to monitor inspection and compliance.
INSPECTO is essential for companies that need to remain compliant with regulations and ensure the traceability of their activities.
Creation of documents from pre-defined templates/generation of quality control documents with pre-configuration
INSPECTO is a cloud-based platform that integrates a wide range of document templates configured to the specific requirements of the service. Models are customizable to your needs for a variety of industries including construction, automotive, aerospace and more.
Interface in 5 languages for international deployment
With INSPECTO, you can manage your inspections, controls and audits in 5 languages and make them accessible to everyone in the chain in their native language. Understanding is made easier, the analysis of problems leaves no room for interpretation, and the resolution of non-conformities is simplified.
The INSPECTO software also ensures that everyone involved has access to the latest version of the document, regardless of their language. So you can be sure that everyone is on the same page.
This quality control tool is an excellent way to ensure that international trade is safe and successful.
Search by type: project name, administrator name and date
INSPECTO allows you to search by type, date, project name or user name, making it easy to find the information you need quickly. This feature is particularly useful for companies that need to keep track of several projects in parallel, as it allows you to find the information you need quickly and easily, without having to go through several menus or data menus.
Project traceability
INSPECTO provides real-time information, based on the latest data, on the follow-up of each project, event, incident or deviation so that you can always be informed of progress. Indeed, the tool allows all the actors involved in the inspection project to visualise each of the stages, their status, to consult the documents used, to know the status of the non-conformities and their resolution.
Analysis of causes and impact study thanks to its Machine Learning function
The nuclear, military, chemical and oil and gas industries are among the most regulated industries in the world. This means that any work done in these industries must be done with precision and accuracy. Our systems are designed to take into account all aspects of inspection and control: problems encountered, resolution, root cause analysis and corrective action.
A secure data management system stores past data, analyses it and proposes corrective actions to avoid similar problems in the future. The tool will allow users to understand the results of inspections and anticipate deviations in industrial processes. This will help to improve quality control and ensure that products meet customer expectations.
Suggested corrective and preventive actions and automatic notification of stakeholders/ Artificial Intelligence to assist in decision making
INSPECTO also integrates an Artificial Intelligence module capable of anticipating problems. By analysing past stored data, the module can predict potential problems and ensure that corrective actions are suggested before a critical stage. Each entity involved in the supply chain will be informed by receiving an alert via e-mail and sms.
In short, its built-in intelligent function assists decision-making in the implementation of corrective measures in the event of drift. Its use in your quality control processes saves time and effort, as the inspector or manufacturer can be quickly alerted to any errors or anomalies.
Follow-up of actions by event, stakeholder, site, entity, client, status,…
Monitoring of actions for better transparency
A timeline function is important for any business to keep track of past events and activities.
INSPECTO makes it possible to retrieve the history of each project, as well as all data, documents, photos and videos, securely and only accessible to authorised persons.
Action planning
With a Gantt feature visible on the main dashboard, INSPECTO allows the planning of all inspection, audit and compliance monitoring project tasks.
This Gantt is dynamic, and indicates in real time the percentage of progress of each project followed by the company.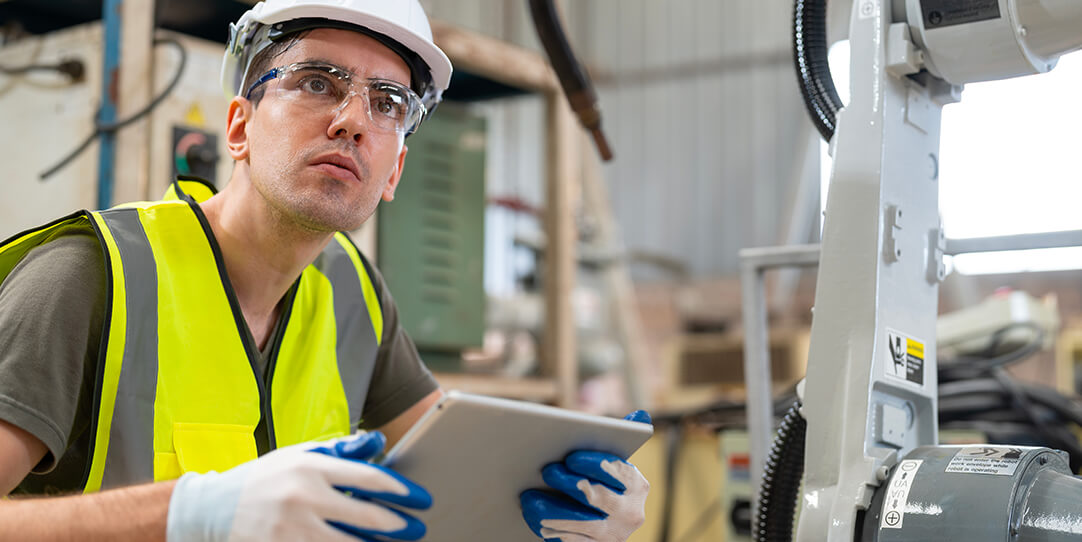 Standard or customisable validation workflow and controlled distribution of reports
This tool provides standard or customisable validation workflows that allow you to follow each step of the inspection validation process. This ensures that all your inspection data is accurate and reliable, and it also simplifies the validation process. In addition, you can set up a workflow to ensure that inspection reports are sent to the appropriate personnel. This gives you full control over who receives the reports and who can access the data. The report can also be customised to include any additional information you require. This is particularly useful for companies that require a certain type of data to be included in the report. With this tool, you can be sure that all your inspection data is accurate and up-to-date, and that the report distribution process is under your control.
Triggering of actions following deviations found during audits or decisions taken during reviews
During audit meetings or reviews, if anomalies are found, the RCA (Root Cause Analysis) loop allows the follow-up of corrective actions on the basis of the information provided and its analysis, and transmits them to the people concerned using a real-time alert system:
A non-conformity is detected => project members are alerted immediately.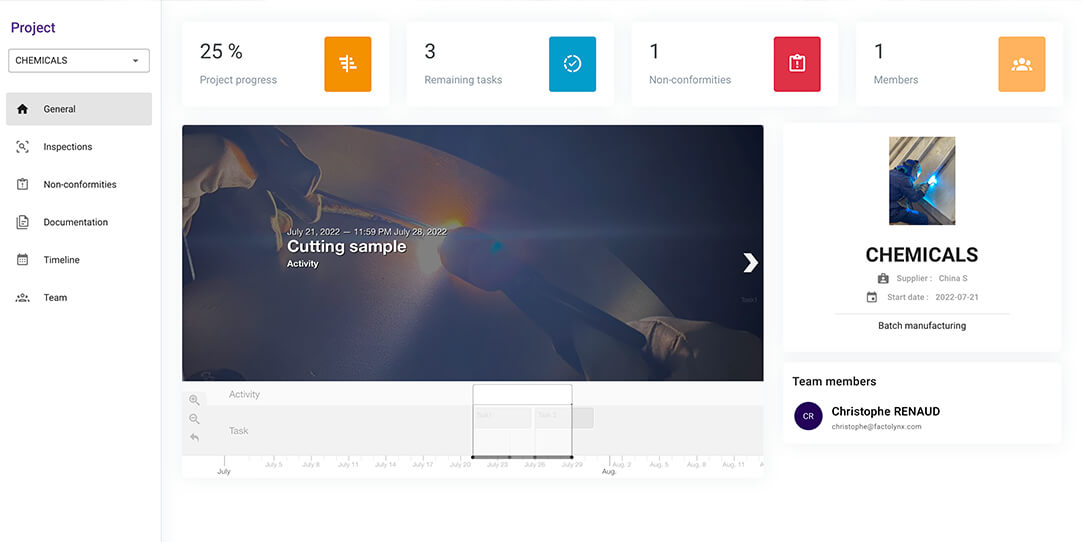 Planning and monitoring of corrective and preventive actions
INSPECTO allows all tasks to be planned and corrective and preventive actions to be shown on the Gantt chart.
Automatic generation of reports
INSPECTO's integrated documentation management module makes it possible to create reports with just a few clicks, avoiding wasted time and energy on the part of inspectors or project managers.
Statistical evaluation, suppliers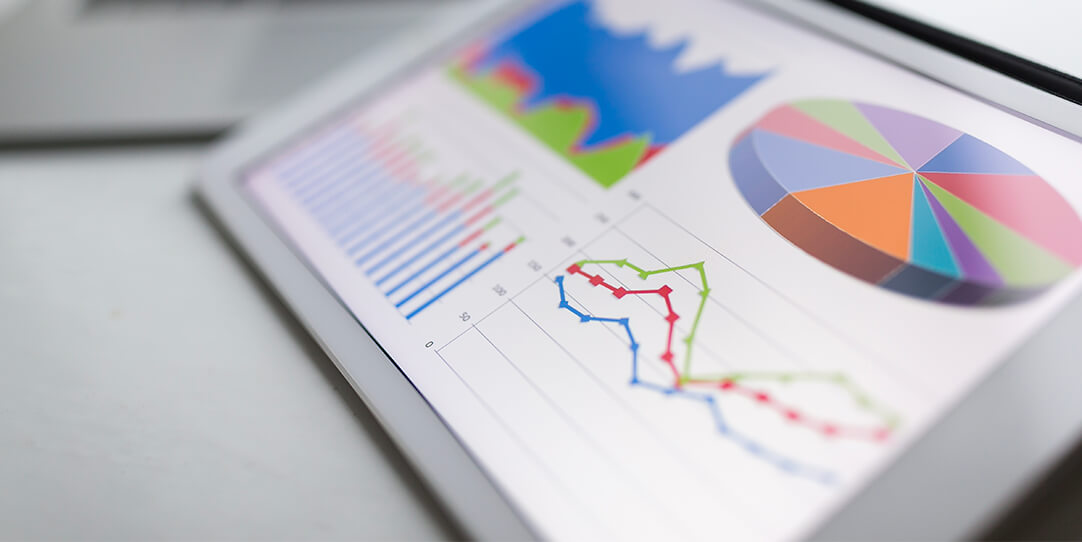 Customisable evaluation questionnaires
By analysing the data, the software also provides statistics to analyse the project's KPIs, the reasons for non-compliance or the performance of a supplier for example.
Customisable supplier indicators and dashboards
With INSPECTO you track project metrics that are incorporated into the dashboard in real time. These can be modified according to your specific needs. Example: project progress, upcoming activities, notification of particular events, number of non-conformities, project members, …
Cloud and mobile compatible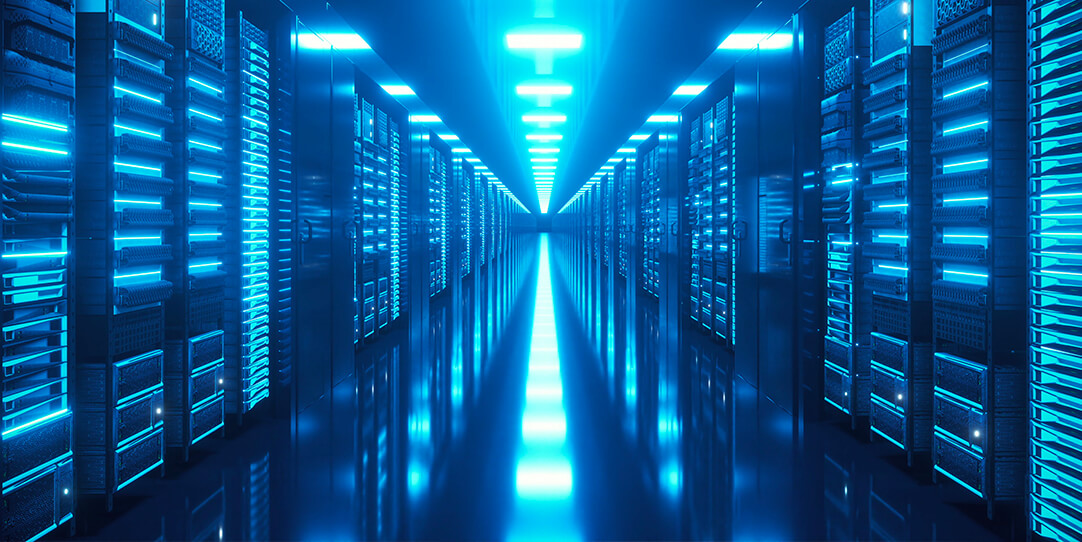 A SAAS tool for more lightness: compatible on tablet and smartphone
The application is available in SaaS mode on the Cloud
INSPECTO is a SAAS tool for computers, tablets and smartphones. Very simply, inspectors can use their own smartphones to carry out inspection, control and quality audit tasks without the need for any other equipment and without downloading specific software. Everything the user needs is available web-based on his smartphone. With a few clicks and an internet connection, he can access documents, sign inspection forms, take photos and videos, and much more.
INSPECTO offers bi-directional synchronisation for uploading and exchanging data or receiving notifications.
Finally, this tool can be customised and integrated with existing software via APIs.
Whether you are in the field or at your desk, INSPECTO allows you to do your work with ease and freedom.
Certified, meeting the highest security and availability requirements
Data protection for more security
INSPECTO provides security and protection of data against unauthorised access or modification. By requiring users to authenticate themselves before accessing the software and through the double signature system, the tool helps to ensure that only authorised users can access the data.
High security, high availability data centres with a high level of service commitment
The SAAS tool INSPECTO stores its information in an AWS database in Paris Ouest, which is currently the highest level of security and confidentiality. AWS is considered the most secure infrastructure available, offering users the assurance that they will always own their data and can move and manage it as they see fit.